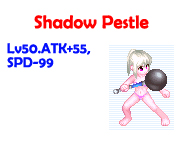 You need to do much burst, which in turn needs a lot of food. So you always going to need money to buy Grape syrup. Add between 30-40k to buy a Shadow Pestle that will be nescessary for lvl 50+. To raise money, the easiest way is just to buy items and sell them more expensive (Buy oversea's armour and sell it at Kelan for example to achieve a maximum gain of money).
Ad blocker interference detected!
Wikia is a free-to-use site that makes money from advertising. We have a modified experience for viewers using ad blockers

Wikia is not accessible if you've made further modifications. Remove the custom ad blocker rule(s) and the page will load as expected.