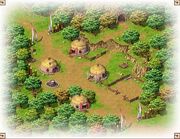 Connecting Areas
Edit
NPCs In the Area

Edit

| Name | Location | Type |
| --- | --- | --- |
| Mary Lou | (X:722, Y:835) | Villager |
| Emilie | (X:1762, Y:735) | Villager |
| Doll | (X:1082, Y:1515) | Quest NPC |
| Astrologian | Inside Civilian's House (X:1602, Y:2055) | Quest NPC |
| Props Shopkeeper | (X:962, Y:675) | Merchant |
| Witch Doctor | (X:1000, Y:695) | Record NPC |
| Props Keeper | (X:1242, Y:815) | Item Storer |
| Xaolan | Inside Civilian's House (X:1293, Y:1061) | Pet/Quest NPC |
| Lina | (X:642, Y:1200) | Quest NPC |
| Boll | (X:862, Y:1490) | Villager |
| Jack | (X:1122, Y:1555) | Villager |
| Stock Keeper | (X:1942, Y:1495) | Item Storer |
| Weapons Shopkeeper | (X:2522, Y:1975) | Merchant |
| Kelan Leader | Inside Civilian's House (X:1662, Y:1515) | Quest NPC |
| Roca | Inside Civilian's House (X:1662, Y:1515) | Pet/Quest NPC |

Collecting

Edit

Items
Coordinates
Ham
Inside House (X:1095 Y:1397)
Ordinary Wood
Inside House (X:1293 Y:1061),
(X:1862 Y:1615)
Shale
(X:2242 Y:1195
| Name | Level | Drops | Spawns |
| --- | --- | --- | --- |
| Baby Bee | 3 | | |
Note: When you attack the pigs in Kelan's pig pen using the PK option, if you lose, a funny secret will happen. You won't be affected, other than having lost a battle though, so don't worry.
Ad blocker interference detected!
Wikia is a free-to-use site that makes money from advertising. We have a modified experience for viewers using ad blockers

Wikia is not accessible if you've made further modifications. Remove the custom ad blocker rule(s) and the page will load as expected.