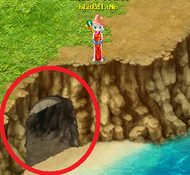 Fisherman's Worry/Map
Edit
In holy village, the fisherman inside (X:2176 - Y:545, SE) will ask you to find a chart/map for him.
Pass through holy to the bottom of South Island, there is a cave to the right.
Use a raft, airplane, whatever to get there.
Inside there are pirates, and they will come at you like Guards under the church.
If you head to the first turn off area there will be a big room.
Find a box, it will not be open.
Use a Ladder by clicking on the chest to get it and then get outta there.
Return to Fisherman to get your reward.
Reward:
1 x Space Agreement
Ad blocker interference detected!
Wikia is a free-to-use site that makes money from advertising. We have a modified experience for viewers using ad blockers

Wikia is not accessible if you've made further modifications. Remove the custom ad blocker rule(s) and the page will load as expected.