Quest: Bucolic Kid
Area: South Island North, South Island
Location: X:2962 Y:2115
Talk to the Shepherd Boy on the farm and he'll ask you to report to the village leader about a wolf hunting his sheep. Talk to the Village Leader in Holy Village about the boy's problem. Then find the Shepherd Boy again. The townsfolk arrive when you talk to the boy, and he says it's all a joke. When the townsfolk leave a level 30 Wild Wolf really comes and you fight it off.
Reward:
Title Deed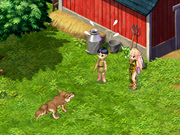 Ad blocker interference detected!
Wikia is a free-to-use site that makes money from advertising. We have a modified experience for viewers using ad blockers

Wikia is not accessible if you've made further modifications. Remove the custom ad blocker rule(s) and the page will load as expected.