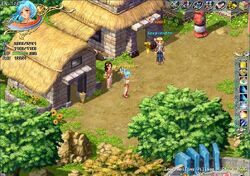 Walkthrough:
This is not a quest its just after the requirements this NPC switchs to vendor and will sell bouquets for one star each. You can buy unlimited bouquets who gives you amity for pets. Easily regarded as a waste of Star.
Process: Talk to Yuna and exchange a Star for the bouquet.

Reward: Love Bouquets
Ad blocker interference detected!
Wikia is a free-to-use site that makes money from advertising. We have a modified experience for viewers using ad blockers

Wikia is not accessible if you've made further modifications. Remove the custom ad blocker rule(s) and the page will load as expected.